Widgets enable you to access up-to-date information from your preferred apps easily and quickly.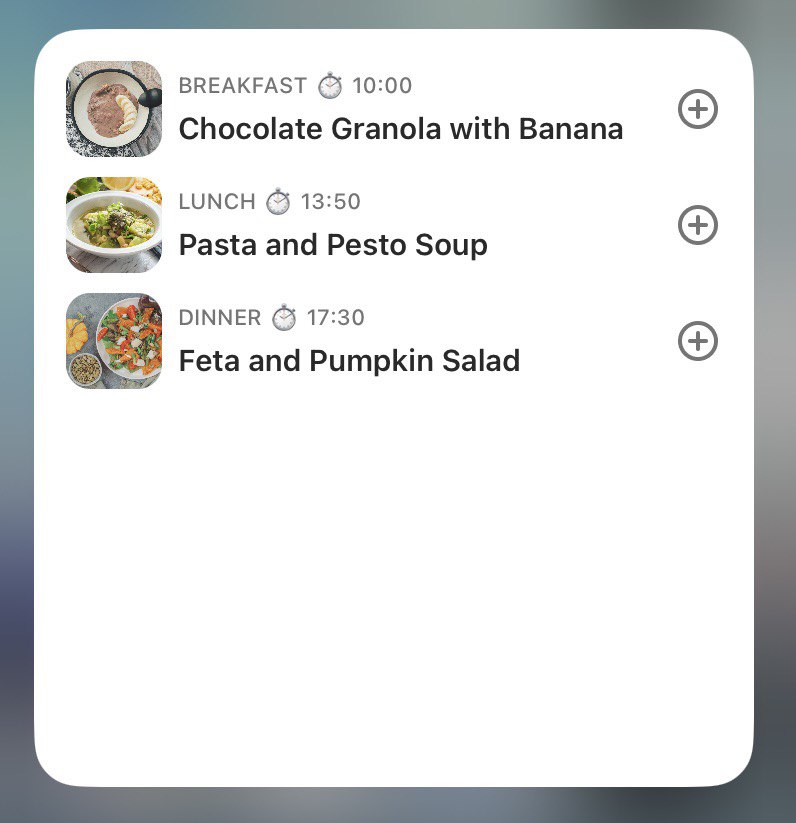 The Unimeal widget shows all your meals for today. Your personalized meal plan will be displayed on your phone screen, making it quick and easy to see today's menu and never miss your mealtime.
With widgets in iOS 14 and higher, you can now see your Meal Plan at a glance on your Home Screen.

1. From the device's Home Screen, long-press on an empty area until the apps jiggle;


2. Tap the button "+" in the upper-left corner;

3. Search for the Unimeal app;

4. Select a widget type, and tap Add Widget;

5. Position the widget to your preference.



1. Long press on your Android home screen and tap to add a widget. Depending on your version of Android, this may look a little different;

2. Find the Unimeal widget in the widgets list, and add it to your home screen;

3. Tap and hold the Unimeal widget from the list, and drag it to the area you want it to be.

The widget is either 4x1 or 5×1, depending on your device, and it should take up the width of your screen.


Widget isn't working?
If you're having trouble with the Unimeal widget, we recommend the following troubleshooting steps:
1. Tap and hold on the Unimeal widget until it shakes
2. Tap Remove Widget
3. Restart your device
4. Re-add the widget
1. Open Settings and go to Application Manager (on some devices Apps)
2. Go to the All tabs and tap the Widget to uninstall
3. Tap Uninstall and confirm the process
4. Clear device cache
5. Restart device
6. Reinstall the widget